How do I change my Conversations notification settings?

To change your notification settings, hover over your profile (in the upper right hand corner of your dashboard) and select "Notifications Center".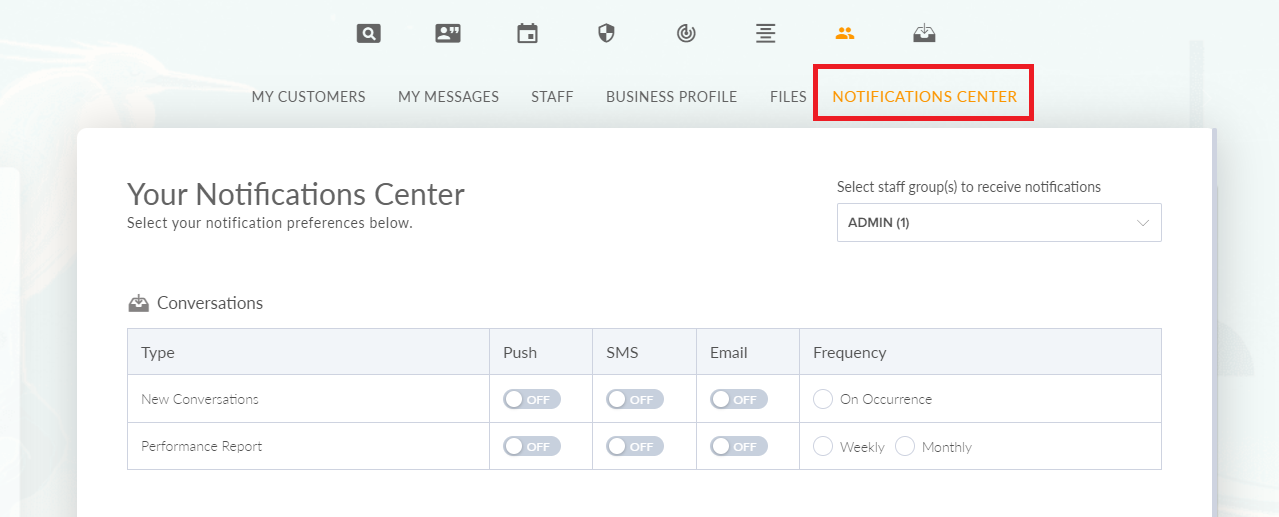 Conversations has two notifications:

New Conversations: Notifies you about any new incoming conversation.

Performance Report: Provides you with data on the frequency of conversations in a given time period (weekly or monthly).

You can turn on\off these notification types:

Push: Sent from your mobile app

SMS: Sent to your phone

Email: Sent to your email

Related Articles

How do I manage admin notifications from my online store?

Admin notifications are emails sent to the store owner automatically when a new order is placed and when products get low in stock. The store owner can also receive copies of all email notifications that are sent to customers. You can select what ...

How do I manage customer notifications from my online store?

Customer notifications are email messages that customers automatically receive from your store after they have successfully placed an order, you have changed their order status, the digital files they bought are ready to be downloaded, etc. You can ...

How do I manage my notification settings?

All of your notifications settings – for push notifications, SMS, and email – can be managed via the Notifications Center. Log in to your dashboard, hover over your profile icon, and select Notifications Center. You can also navigate to this area by ...

How do I get a notification when I receive a new review?

To access your notification preferences, select the Get 5 Star Reviews tile. Select the Settings tab, and then select the Notifications sub tab. To get an email notification each time you receive a review, toggle the New Testimonials notification to ...

How do I access Conversations on mobile?

Conversations works on our mobile app exactly as it does on the desktop version. One added feature is that you will get push notifications that appear on your phone letting you know when you have received a new message. Log in to the app and scroll ...