Automated Google Smart Shopping campaigns

During the fast setup, you can either just place
Free product listings
on different Google surfaces or add a paid
Google Smart Shopping campaign
to supplement them. This last option will help you get the most exposure for your products and sell more.
What are the differences between Free listings and Smart Google ads
Both kinds of ads can be automatically created from your store's product feed in
Google Merchant Center
, and both feature products from your store – but they appear in different advertising spaces. To reach a wider audience, you can augment Free listings with the paid Google Smart Shopping ads
With the Free listings your products appear during relevant searches in unpaid listings on Google surfaces. These surfaces include
Google Shopping tab
,
Google Search
, and
Google Images
(as well as Google Maps and Google Lens). Note that your products should meet the
Google Free Listing Policies
for your ads to get successfully approved by Google after the ads setup.
Setting up Google Shopping ads

Log into your DCC account, and select the E-Commerce tile.

Click on the OMINICHANNEL tab, then select SELL ON GOOGLE.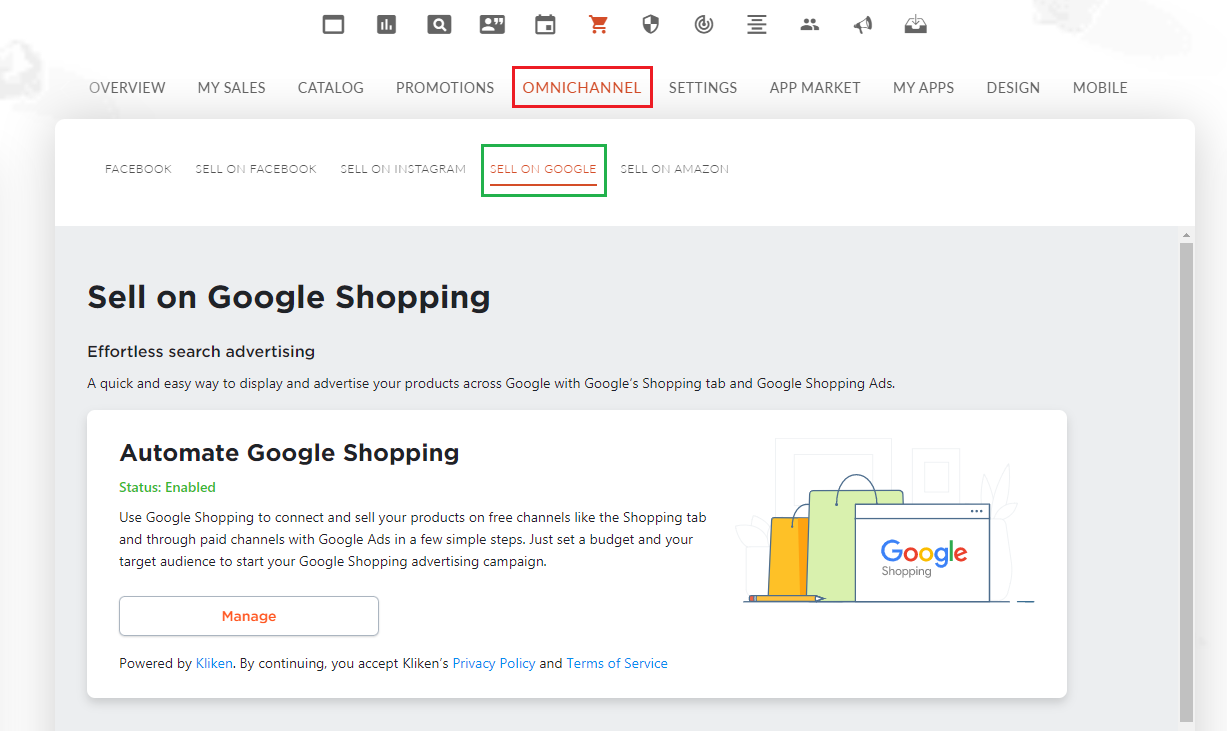 3. Pick a country (you can only select one country per campaign) and a language (your ads will be shown to people who have selected this language in their browser settings):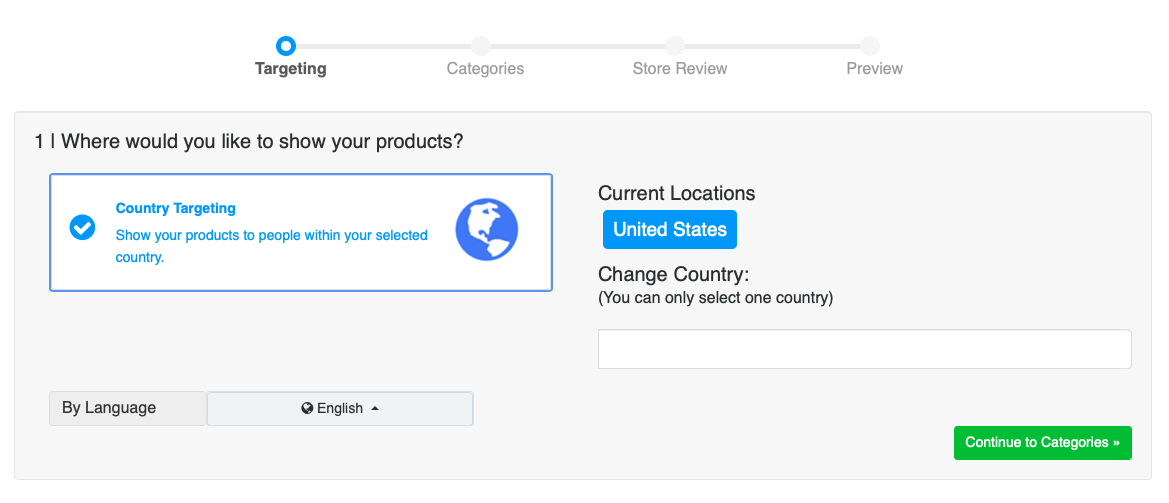 Click Continue to Categories. Pick the right Google category for your store to make sure your ad shows up in the right search results and select the condition of your products (New, Refurbished or Used). Example: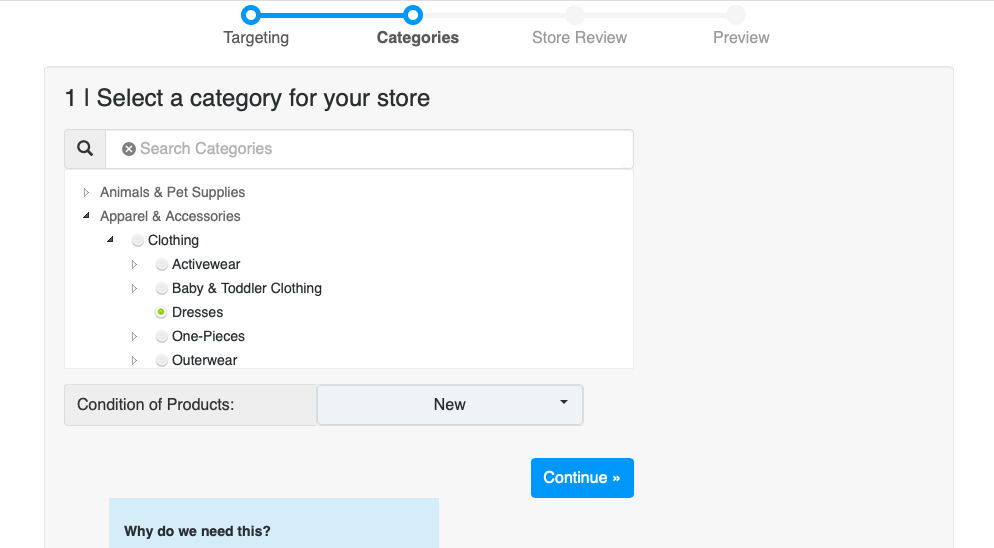 Click Continue.

Choose what products you want to advertise. If you don't use categories in your store, all products will be automatically selected for ads. If you want to advertise specific products only,

put them in categories

in your store first and then select these categories for the campaign: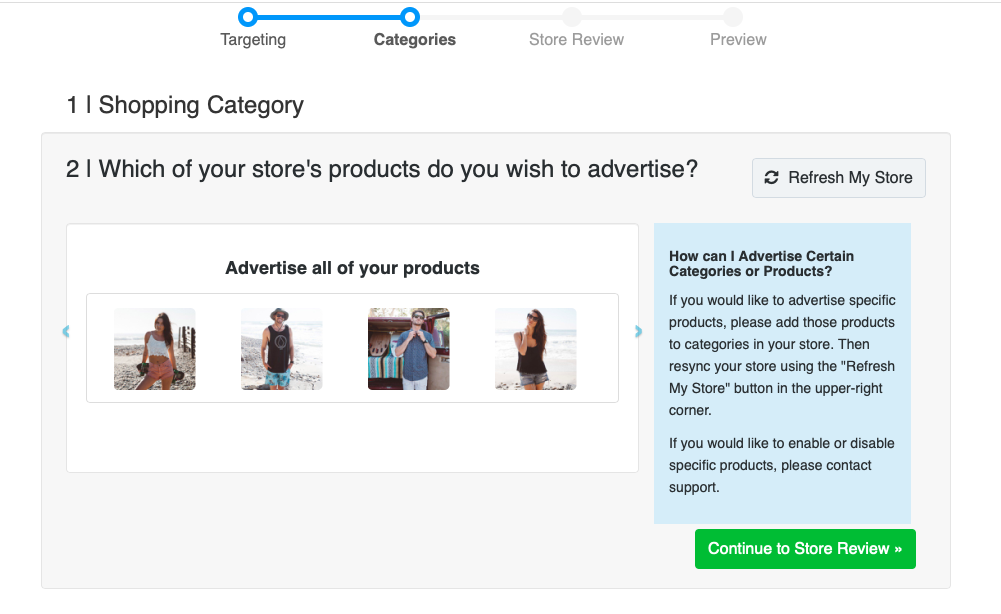 Click Continue to Store Review.

If any errors are indicated, click View Details and follow the instructions on how to fix them, then click the I fixed this, Refresh my store button.

Click Continue to Preview to see how the ads will look like. Example: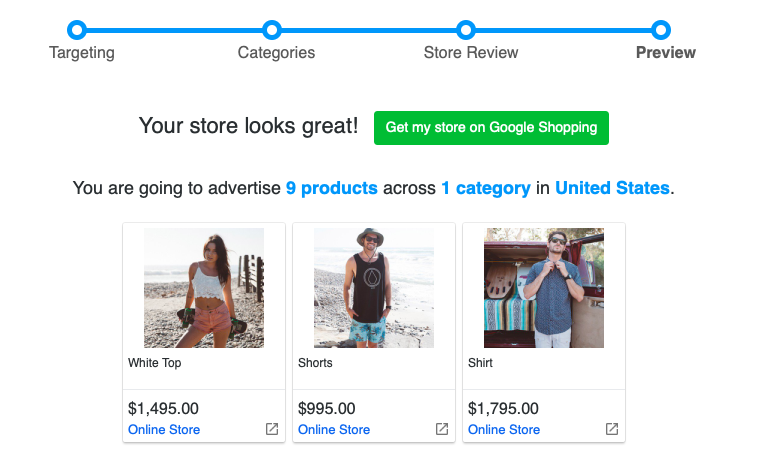 Click Get my store on Google Shopping.

Select the preferred package to launch your low-effort Google Shopping campaign.

That's it. Your ads have been created.

If you already have an account in Google Merchant Center, you can link it to your campaign in Stats → Shopping Campaign Status, but only within the first hour after purchasing the campaign. After the hour passes, a new merchant account will be automatically created in order to finish the process of launching the campaign. Later you can always add yourself as an admin user to this newly created merchant account through the Advanced Options under the Edit Active Campaign page.

It usually takes between 3-5 days for the ads to go through Google's approval process, after that they will show in relevant searches to shoppers browsing on Google.

Managing Google Shopping ads campaigns

As you find the advertising tactics that work best for your online store, you will very likely choose to adjust campaign settings in Google Shopping Ads. Switch the target audience, change the marketing category, or pick different products for serving your ads under the
Manage
tab in the OMNICHANNEL - SELL ON GOOGLE
→ Google Shopping → Manage
section in your store's admin.